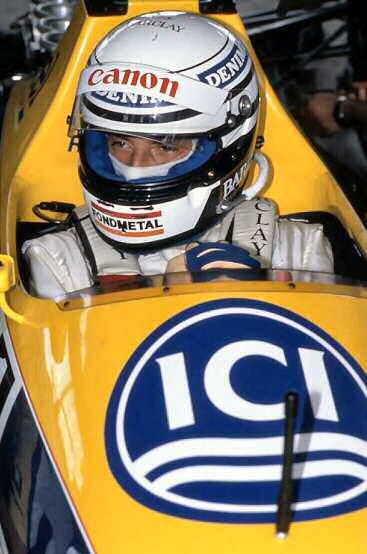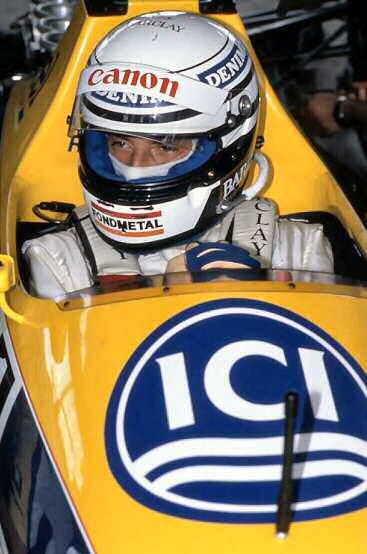 | Date | | Race | | Circuit | | Qual. | | Race | | |
| --- | --- | --- | --- | --- | --- | --- | --- | --- | --- | --- |
| 03-Apr | | Brazil | | Rio de Janeiro | | 8 | | Rtd | | Overheating |
| 01-May | | San Marino | | Imola | | 6 | | 13 | | |
| 15-May | | Monaco | | Monte Carlo | | 8 | | 6 | | |
| 29-May | | Mexico | | Autódromo Rodríguez | | 17 | | Rtd | | Engine |
| 12-Jun | | Canada | | Montréal | | 11 | | Rtd | | Engine |
| 19-Jun | | USA | | Detroit | | 10 | | Rtd | | Electrics |
| 03-Jul | | France | | Paul Ricard | | 15 | | Rtd | | Brakes |
| 10-Jul | | Britain | | Silverstone | | 15 | | 8 | | |
| 24-Jul | | Germany | | Hockenheim | | 13 | | Rtd | | Accident |
| 07-Aug | | Hungary | | Hungaroring | | 6 | | 6 | | |
| 28-Aug | | Belgium | | Spa | | 5 | | Rtd | | Engine |
| 11-Sep | | Italy | | Monza | | 10 | | 7 | | |
| 25-Sep | | Portugal | | Estoril | | 11 | | Rtd | | Radiator |
| 02-Oct | | Spain | | Jerez | | 7 | | 5 | | |
| 30-Oct | | Japan | | Suzuka | | 11 | | 6 | | |
| 13-Nov | | Australia | | Adelaide | | 6 | | 4 | | |
Car
Williams FW12 - Judd
Championship
Williams-Judd (7th) 20pts
Riccardo Patrese (11th) 8pts
"Patrese could be counted as rather fortunate to have picked up the number two Williams seat at this stage of his career and ran unspectacularly in Mansell's shadow for much of the year, prudently stepping up his pace at the Hungaroring to shadow the Englishman for many laps. By then, of course, it was contract-renewal time, so a bit of window dressing seemed to be called for. Patrese proved yet again that he is quite unable to suppress the wild streak in his character when he 'brake-tested' Julian Bailey in practice at Jerez, an asinine piece of driving which rightly saw him penalised with a fine."
Riccardo's Race Comments
BRAZILIAN GP
"I knew I had to keep clear of traffic to keep my temperature low. I was okay behind Nannini but then the engine just cut. Now I just look forward to Imola, which I consider my home circuit."
SAN MARINO GP
"It was a nice first 20 laps and the car was running really good and I could keep Boutsen and Nannini behind me. But I started to slow down as the tyres were on the the limit and the noise from the engine was not good and I think it was because my exhaust started too break. When the exhaust broke completely that was the end and then when the suspension went the car was not stable any more so I had to go slowly. But like Nigel I now look forward to Monaco where I am sure our cars will be good again."
MEXICAN GP
"I had to fight like hell and when I came out of the hairpin there was just no power at all. As I sat on the grid suddenly a lot of smoke was coming from the cockpit. I was happy it was only the switch on my head cooling equipment that had short circuited. It was not a happy day, but now I look forward to Montreal where I think the car will be good."
CANADIAN GP
"I had the same problem as Nigel and about ten laps before I retired the oil light came on. The engine lost its power and I was able to retire in the pits before the engine blew."
USA GP – DETROIT
"I was changing down and the engine cut out completely. The car had felt good although the rear tyres were going off and I was having brake problems. I decided not to chase Boutsen and risk my fourth place as the track was very slippery."
FRENCH GP
"The balance bar of the brakes broke and I only had brakes at the rear. I had to brake about 300 metres before the corners and I was still locking up when I went in."
BRITISH GP
"I had trouble with the acceleration out of the corners and there was some understeer going in. Towards the end I tried three or four times to take Eddie Cheever's Arrows, but he just went away. So I am a bit frustrated not to have had a better placing, but very happy to have finished the race."
GERMAN GP
"My main problem was a misfire in the engine since lap five when I was at 10,000 revs. I think it was something electrical. I went straight on at the Sachskurve and damaged the right front suspension on the car."
HUNGARIAN GP
"I really enjoyed the first part of the race and the start was good – I passed both Thierry Boutsen and Alessandro Nannini on the first corner and from sixth on the grid I was third. The car felt very good then it started to misfire from about lap 30. I was going to come in, but then it felt better again and just kept coming and going with the performance. Anyway we got a point which is better than nothing."
BELGIAN GP
"The oil light came on, I felt something go so slowed down and switched the car off. My main problem during the race was understeer and I had no traction at the start so Boutsen went round the outside of me. The tyres were going off, so I took a little bit of care and they came back. I put a lot of effort into this race, which was harder than running second in Hungary."
ITALIAN GP
"For the first 20 laps the car was good, it had good grip from the tyres and good aerodynamics. But after that it was a little nervous and the rear tyres went off. However, at the end the car was not bad despite a little understeer in Parabolica and a little bit of oversteer in the two Lesmos. I worked hard and wanted to get a point."
PORTUGESE GP
"The start was good and the car felt very good and well balanced. For the first 20 laps I was conserving my tyres and so did not push too much. The race was exciting for me and I felt that in the group I was running with my car was the best. I kept with Alboreto hoping that he would make a mistake or have to change his tyres, but then the temperatures went up and I had to come into the pits and stop. It was a failure on the right radiator that caused the overheating."
SPANISH GP
"It was a very hard race, but I was pleased with my start. Then I had Senna in front of me and I tried very hard to overtake him and I think I gave a little bit too hard time to the tyres. But I didn't stop for tyres because I was always behind him and I was hoping he would make a mistake or something so I could overtake. Unfortunately, for the last 25 laps the tyres were not good, especially the rears with very little traction, and I had to drive the best I could but with a very sliding car. The people who had the good idea to change the tyres were coming from behind very quickly and I could not do anything at all. At the end when Senna overtook me he was much too quick to keep behind. Then when I saw Berger with five laps to go I thought I can't let him go. I thought probably he could get me, but he was a bit nervous having made a mistake. I am pleased with the result anyway."
JAPANESE GP
"I was held up by Warwick and there were no blue flags for him. I stayed behind him very close and had understeer, so my tyres started to go off and they never came back. I had no mechanical problem with the car, but at the end the track was very, very slippery. I hope I can now get some more points in Adelaide."
AUSTRALIAN GP
"The race I think went well and the result is positive. I had a good start and I could sit in fifth place behind Nelson easily. I tried to attack him but every time I got too close my brakes started to go. We knew we were a little bit on the limit from the start with brakes. In one of these attacks I braked a touch too late and pressed too much the pedal. The car was already a little bit sideways, I locked the rear wheels and I had a little spin. I dropped to fifth and tried to come back but the tyres were a little bit square. Then I saw Nigel had a problem at exactly the same corner I had my spin – it was a critical point for us. I then decided to keep fourth place safe as I was too far away from Nelson in third and I knew I could have problems with my brakes."