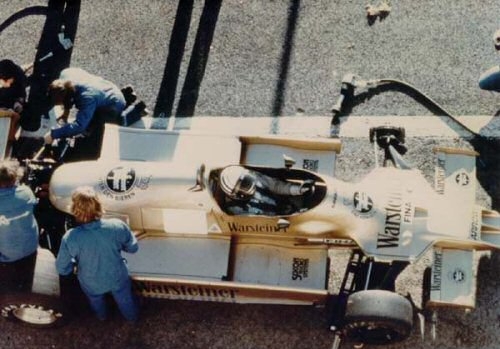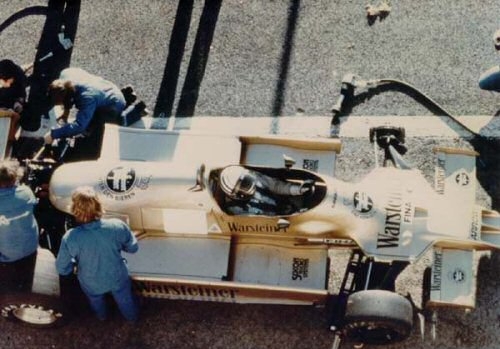 | Date | | Race | | Circuit | | Qual. | | Race | | |
| --- | --- | --- | --- | --- | --- | --- | --- | --- | --- | --- |
| 29-Jan | | Brazil | | Rio de Janeiro | | 18 | | 10 | | |
| 04-Mar | | South Africa | | Kyalami | | 7 | | Rtd | | Engine |
| 02-Apr | | USA (West) | | Long Beach | | 9 | | 6 | | |
| 07-May | | Monaco | | Monte Carlo | | 14 | | 6 | | |
| 21-May | | Belgium | | Zolder | | 8 | | Rtd | | Rear suspension |
| 04-Jun | | Spain | | Jarama | | 8 | | Rtd | | Engine |
| 17-Jun | | Sweden | | Anderstorp | | 5 | | 2 | | |
| 02-Jul | | France | | Paul Ricard | | 12 | | 8 | | |
| 16-Jul | | Britain | | Brands Hatch | | 5 | | Rtd | | Puncture |
| 30-Jul | | Germany | | Hockenheim | | 14 | | 9 | | |
| 13-Aug | | Austria | | Österreichring | | 16 | | Rtd | | Accident |
| 27-Aug | | Holland | | Zandvoort | | 13 | | Rtd | | Accident |
| 10-Sep | | Italy | | Monza | | 12 | | Rtd | | Engine |
| 08-Oct | | Canada | | Montréal | | 12 | | 4 | | |
Cars
Arrows FA1 - Cosworth V8
Arrows A1 - Cosworth V8
Championship
Arrows (10th) 11pts
Riccardo Patrese (12th) 11pts
"We don't apologise for including Patrese in this year's Top 10. Yes, the Italian was forceful and he did employ what are politely called "Formula 3" tactics, but he is a natural winner. There are many drivers who can race competitively in Formula 1, but few who can win. In South Africa Riccardo proved he could lead a Grand Prix with apparent ease, only an unexplained engine failure coming between him and the chequered flag.
Sadly, Patrese's Arrows could not provide the reliability its driver required in order to establish himself among the elite of Grand Prix drivers. Possibly this explains his desperate driving?
It was gratifying to see that after his exclusion from the Watkins Glen starting grid he finished a fighting fourth at Montreal a week later. The treatment meted out by the "establishment" at the Glen could have broken a lesser pilot. But Riccardo is strong willed: he wants to prove he is a winner."
The Top 10 in full:
1. Niki Lauda 2. Mario Andretti 3. Carlos Reutemann 4. Alan Jones 5. Patrick Depailler 6. Jody Scheckter 7. Gilles Villeneuve 8. Jacques Laffite 9. John Watson 10. Riccardo Patrese
Race Reports & Articles